Merging receipts
---
Overview
Merging multiple receipt records into a single record will merge all records into the chosen primary record, and each receipt file will be combined into a single consolidated PDF.
You may need to merge receipts when multiple pages of an invoice have been submitted to Receipt Stash as separate receipts, or a supplier has issued multiple invoices for a single purchase.
How to merge
Navigate to the Receipts page and select the receipt(s) by ticking the check box at the beginning of the table row.
Once you've selected the relevant receipts, click the Tools button in the top left-hand corner above the receipts table, and from the dropdown list click Merge items.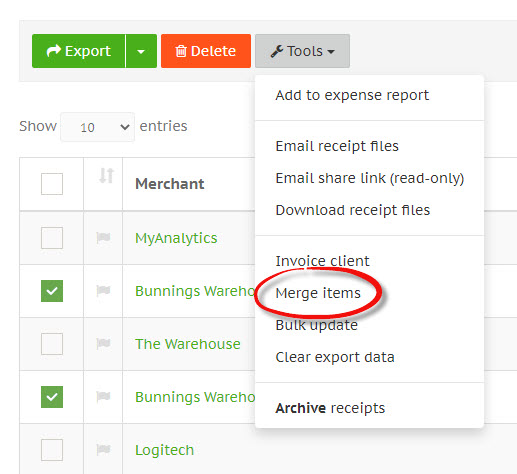 A window will appear displaying a dropdown list of the selected receipts. Select the primary receipt to merge into, then click the green Merge button in the bottom right-hand corner of the window to confirm the merge.